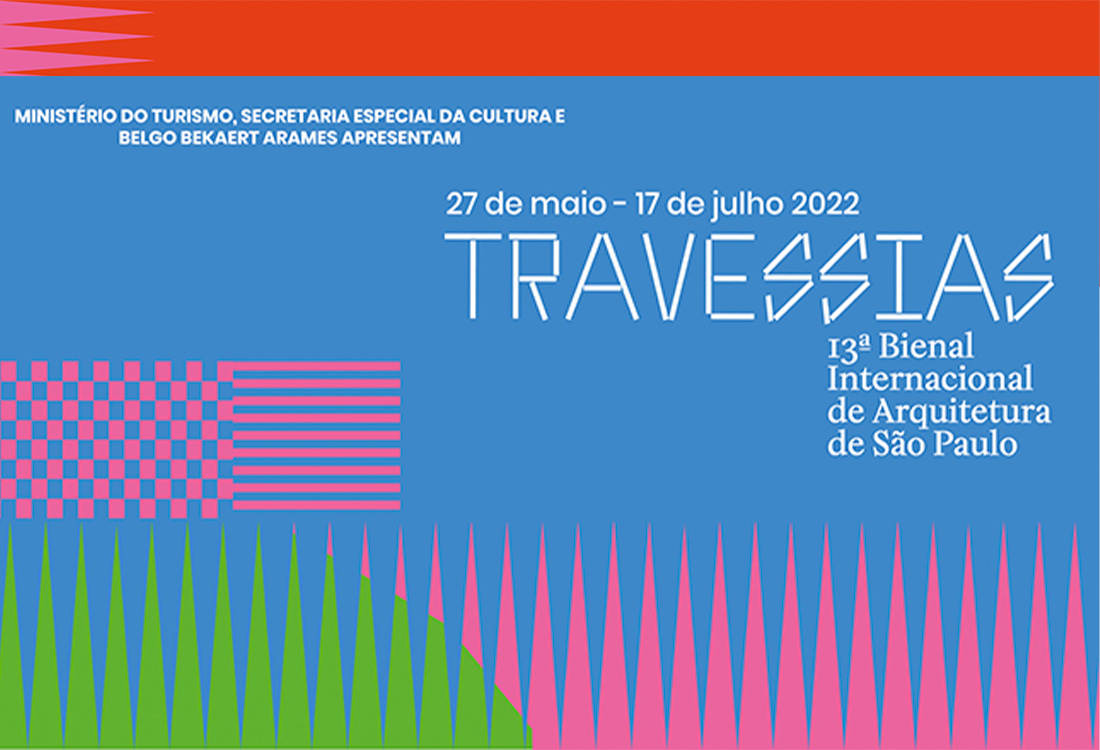 20 May

13th São Paulo International Architecture Biennial

This edition of the Architecture Biennial is based on a reality of intense transformations generated by the COVID-19 pandemic around the world, which demanded intense efforts to organise urban, social and professional dynamics for survival. Thus, a look at the challenges imposed by this crisis is proposed, as well as reflections and proposals that point to social practices, spatial arrangements and the possibilities of (over)living and transforming reality in urban and rural areas.

In this way, the 13th edition of the São Paulo International Architecture Biennial, which will take place in 2022, takes RECONSTRUCTION as its central initial provocation. It starts from the idea of reconstructing, recasting and renewing the relationships of social groups with their domestic spaces, of citizens with public spaces and of personal and professional plots, which occur in the spaces of confinement and in those of collective use, during and after the COVID-19 pandemic.

RECONSTRUCTION invites us to rethink problems and solutions in different aspects. In order to better understand this issue, we launched preliminary guidelines that guided us in the proposal of the bases of this national event. The question of democracy proposes a critical reflection on how to guarantee and stimulate political practices in urban spaces in a global context and in a country facing threats of democratic recession. Thinking about how to make cities more accessible, safe, welcoming, attractive, but also a place where contrasts and conflicts are latent, discussing questions about the presence of different social classes, races and genders. It also aims to propose innovative solutions in relation to planning and democratic management, based on experiences linked to the territory.

The Bodies axis launches the discussion on the relationship between space and issues such as intersectionality, vulnerabilities and social policies. We suggest a reflection on how to guarantee collective practices in the face of public health problems, discrimination, violence and violation of rights, in order to rethink how to guarantee access, coexistence and transit of people in cities. It also announces the urgency of guaranteeing specific programmes for specific groups, such as children, young people, older adults, people with special needs, especially in vulnerable territories in the midst of the imposed crisis, broadening the debate on the vulnerabilities of bodies. in the flows through the city. In relation to architectural spaces, it also proposes a reflection on the flexibilisation of domestic, professional and institutional spaces in the face of the challenge of guaranteeing the diversity of uses and collective health in the context of isolation and restarting activities.

Understanding Memory as the collective agent that confronts us with the strangeness of a new world and comforts us in relation to its permanence, but also as a process of permanent re-elaboration of that past in the present and that has the property of preserving or erasing certain information, we launch the challenge of understanding how to use pre-existence for the reinvention of everyday life in cities. This axis also aims to reflect on how architecture and urban infrastructure can collaborate to build a collective memory that makes the process of (re)occupation, (re)construction and (re)signification of cities more welcoming.

In this sense, Information opens up horizons for the debate on urban and social policies based on a theme that touches on all aspects of contemporary life, but is still restricted to specialists. We propose to shed light on issues of privacy and data protection, as well as experiments with public and private data governance models in the management of bodies and everyday practices, stimulating debate on collaborative mapping, facial recognition, algorithmic discrimination, internet of things and urbanism, data science from the perspective of city governance.

The discussion on ecology proposes a reflection on the planning of cities that is attentive to environmental balance and the development of productive activities, focused on the quality of life of its population based on issues such as climate change, low-carbon cities, urban agriculture and food security.